Kentucky is at a Crossroads...
Our hard-working families cannot afford to revert back to the stale, liberal policies that have left our state behind. We must move forward and continue to advocate for strong, conservative policies that will attract industry to our state, create jobs, and secure a promising future for all Kentuckians. As a lifelong Kentuckian and sixth-generation Grant Countian, I have a vested interest in working to ensure that the 61st district, and our Commonwealth, are on the path to prosperity.

From the time I was elected, I have sought to serve Kentuckians by being openly accessible and continually engaged in developing solutions for the issues that impact our communities. I have dedicated my time in Frankfort to being your steadfast voice, and I am working hard to ensure that your voice is heard loud and clear concerning the pivotal issues we are facing in the Commonwealth. I began this journey with the hope of restoring a tone of civility and statesmanship to the legislative process, and I continue to strive to be the dependable servant-leader you can rely on.

If you don't yet know me personally, please feel free to reach out through my website, e-mail, Facebook or Twitter. I'm happy to connect!

Thank You and God Bless,

Savannah Maddox

News
Tuesday, August 11, 2020 5:33 PM
Are you fed up with Governor Beshear's Executive Overreach?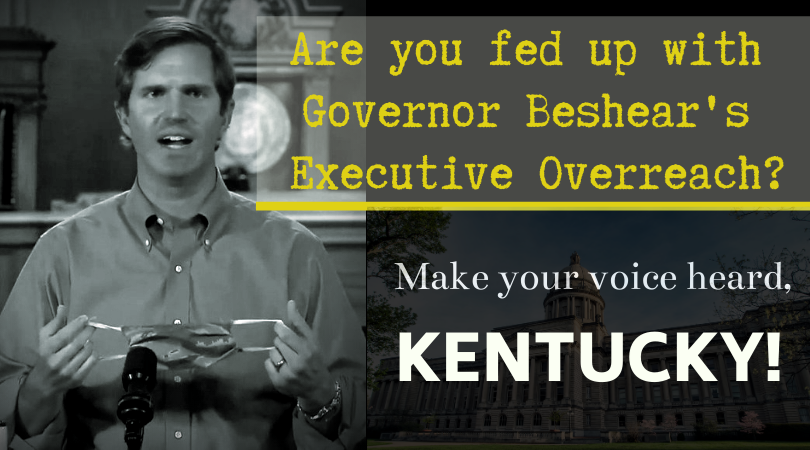 Click here to locate your state representative and ask them to co-sponsor BR 130:

Over the course of the past six months, Kentuckians have become quite familiar with a statute that many had previously never heard of, KRS 39A.100. Governor Beshear's abuse of this particular statute has resulted in:

-General Fund revenue shortfall of $495.7 million; Road Fund revenue shortfall of $194.6 million.

-Over 970,000 Kentuckians filing for unemployment (47% of the entire workforce), many of whom have yet to receive a dime of unemployment benefits in exchange for the wages they were forced to forego.

-Persons of faith being denied the ability to attend religious services in accordance with their 1st Amendment right to religious freedom.

-Countless numbers of Kentucky's businesses that will never again open their doors and 287,000 jobs that will cease to exist.

-The suppression of the right to assemble, and freedom of speech by restricting access to the People's Capitol in Frankfort.

-Interstate travel bans, restricting the rights of Kentuckians to move freely in and out of the Commonwealth.

-Infringement upon the right to privacy through the proliferation of contact tracing.

Subsequently, Governor Beshear has been challenged a number of times in court which has resulted in some of these executive orders issued under KRS 39A being overturned. It is for this reason, and for the protection of the basic civil liberties of all Kentuckians that I am pre-filing BR 130 to amend KRS 39A and related statutes.

Never again must we allow the majority of Kentucky's businesses to be shut down, resulting in the level of economic devastation that we are seeing unfold in the Commonwealth.

Never again must we allow the fundamental liberties and freedoms which are enshrined in the Bill of Rights to be suppressed under the weight of unilateral decrees issued on behalf of the executive branch.

So much of what we are seeing in terms of the Governor's actions is egregious overreach; Masks should be entirely voluntary, as should vaccination and contact tracing. The government should have no authority to force any of these things on its citizens. Moreover, any business that employs Kentuckians and enables them to put food on the table IS an essential business, and it is unconscionable to think of the economic devastation that the Governor has created through previous shutdowns. I will continue to be vocally opposed to any mandate or requirement issued by the Governor that violates our civil, individual, or religious liberties.

I have pre-filed BR 130 for the 2021 General Assembly Session which will amend KRS 39A in order to create a system of checks and balances among three coequal branches of government, to ensure that never again are the citizens of the Commonwealth left without a voice during a state of emergency. Specifically, it stipulates that the General Assembly must be called back into Session in the event that an emergency order surpasses a two week timeframe, and all emergency orders must be narrowly tailored so as not to unnecessarily burden or imperil Kentucky's businesses. If you're interested in learning more about it, you can read it in its entirety here:

BR 130 - Rep. Maddox
---
Sunday, May 3, 2020 12:00 AM
Kentucky Freedom Rally
---
Thursday, December 26, 2019 9:40 PM
Giving Voice to the Voiceless: Savannah Maddox (KY HD-61) at Northern Kentucky Right to Life Event
---
Saturday, December 21, 2019 8:28 PM
Rep. Maddox Fires Back Against Anti-Gun Legislation


In light of the recent onslaught of anti-gun legislation and discussions of Red Flag Laws in Kentucky and around the nation, I would like to make my position clear:

I will vocally oppose BR 354, BR 342 and Red Flag Laws every step of the way, as well as ANY additional gun control legislation. I filed HB 327, Constitutional Carry, and carried the senate version (SB 150) to its passage in order to expand our ability to exercise our 2nd Amendment rights. I am confident that both the assault rifle ban and high capacity magazine ban will be dead on arrival in the upcoming session, but I am appreciative of everyone's efforts to be vigilant on this issue. It is imperative that Kentuckians make their voices heard loud and clear- that we will not stand for this gun-grabbing nonsense and will rally behind our constitutional right to keep and bear arms which shall not be infringed.

---
Wednesday, December 4, 2019 9:20 PM
Savannah Maddox Files for Re-Election


Today I had the distinct privilege of being accompanied by great friends, family, and fellow legislators as I filed for re-election for State Representative of the 61st District. I would like to thank everyone who took the time to join me as I embark upon this journey into 2020- I am greatly appreciative of your kindness and support! Most of all, I would like to thank the citizens of Kentucky's 61st House District who have entrusted me with the opportunity to serve in this capacity. It is a distinct honor to represent you in Frankfort, and I pledge to continue working with you and for you as I seek re-election in the upcoming year.

-Savannah Maddox